Hello from Repl.it's newest designer!
Hi everyone! My name is Tyler and I wanted to introduce myself to the community. I just joined Repl.it as a designer and I'm so excited to help make your experience more exciting, productive, and creative. I'll be working primarily on a mix of user interface and user experience design.
Some background about me: I grew up doing art and architecture, then studied computer science and math in college. Afterwards, I did a master's degree in education where I focused on making tools for learning and creativity. If you're familiar with Scratch, I worked there this past summer and prototyped new tools for brainstorming!
Over the next few months, you'll start to see changes to the site where we focus on making our typography, colors, and user interface more consistent and pleasant all around. You'll also start to see collaboration and community become a more central part of your Repl.it experience.
As my first contribution on the team, you might have noticed that some of your files have icons! We started by choosing some of your favorite programming languages to make it easier to find specific file types. Over time, we will include icons for every programming language on Repl.it.


This is an example python file on dark mode.


These are the icons we currently uploaded.
If you are curious about some of my previous work, you can check out my portfolio by clicking here. I can't wait to get to know all of you and if you ever have comments on our design, please let us know!
You are viewing a single comment.
View All
rrsbrowndogs

(0)
The icon thing is SO helpful. It makes using multiple files and switching between them much easier and less confusing.
One suggestion: kind of a big change, I know, but I find editors like atom's ability to move panes around super helpful, could this be added to repl.it? Right now the only options are being able to resize panes by clicking and dragging, and to change the layout between side by side and stacked in settings, but sometimes neither layout is exactly what i need. Being able to drag and drop panes is very useful, and I would love to see it added to repl.it.
Kognise

(385)
@rrsbrowndogs movable panes are already being implemented :)
Look at the top right corner in the image below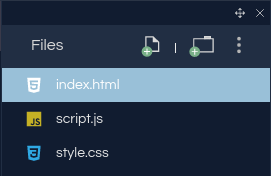 rrsbrowndogs

(0)
@Kognise, thanks, that's awesome! How do you activate movable panes? The icons in the top right don't appear by default for me, even after activating explorer mode. I don't see anything in settings for it. Or is this a preview of a feature that hasn't actually been introduced yet?
Kognise

(385)
@rrsbrowndogs Right now only the Repl.it team can access the feature - I was recently at the office and they were nice enough to give me access. But it's gonna be awesome!