Introducing Repl Talk (beta): the friendly discussion and code sharing platform
At Repl.it, our goal is to make programming more accessible. To achieve this, we spend most of our time building the IDE, the cloud infrastructure, and the tooling. However, ever since the advent of open-source, version control, and collaboration software, programming became much more than just about the act of coding -- it became an inherently social activity.
Our foray into Repl.it as a social coding platform started with the I Built This (IBT) competitions. Every competition had a theme -- games, bots, websites, etc -- people submitted their creations and others voted on them. This opened our eyes to the creativity in our community, and to the energy to which people are dedicating to building amazing things on this platform.
There are just too many great moments in the history of IBT to recount all of it but two things stick out as the major driver in thinking this platform could be much more than just competitions:
When @pyelias created his Chatroom. We saw people logging in every day, talking with other people, sharing their repls, and asking for help. Furthermore, when @pyelias and @lukaswoodruff created a shared handle @replitcode to collaborate on the chatroom and other projects, we knew that there's so much value in connecting people together.
When @caleblol created his all-time popular game WebGL Rolling Sky and saw how people were forking it and adding features and changing the game -- for example a level-designer, which Caleb eventually incorporated into his game.
Introducing Repl Talk
So given that we outgrew the competition use-case (although we'll continue to do those). We built this forum to make it easy for all of you to share your creations, discuss various programming-related topics (say talk about your favorite programming language), find collaborators for projects, etc.
Repl Talk is structured kind of like Reddit or Hacker News -- here are some of the features:
Boards
Each board has a certain subject/function. The main board is All which functions like the front page of Reddit -- all the posts are aggregated there. This is where most users will be viewing submissions unless they want to dig deep on a single board/topic and explore it.
Presently, there are four boards:
Share: this is where you share your creations with the community
Ask: if you have any coding questions or how to best use the platform then you can ask here.
Announcements: this is announcements from the Repl.it team. Like this one.
Learn: A place to post tutorials
Posts
There are two types of posts:
Repl posts, which have a linked repl that are also embedded below the post
Discussion posts, which don't have a linked repl and can just be texted and images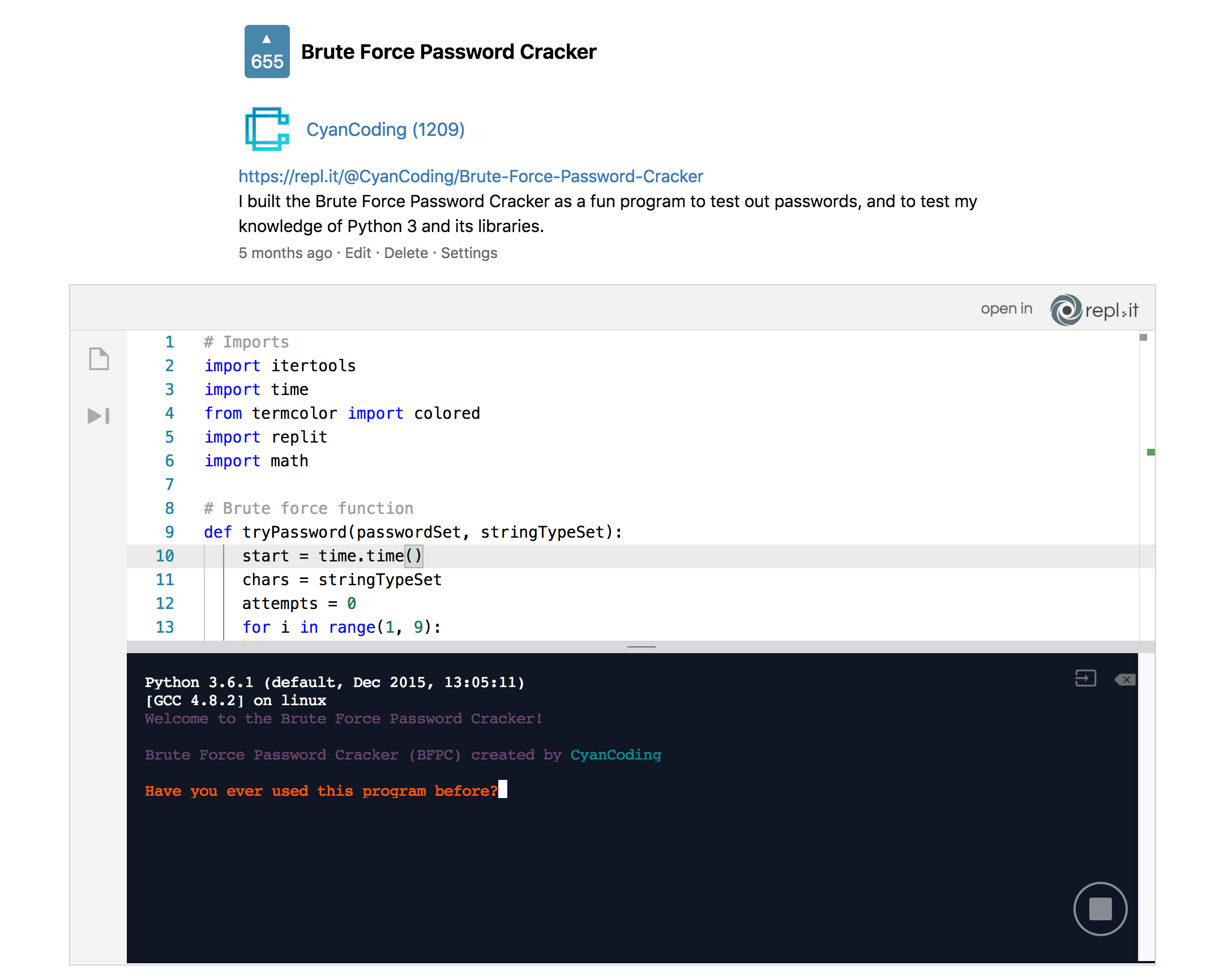 Upvotes/sorting
We'll be using the wisdom of the crowd to surface the best creations and topics of discussion -- upvotes! The default of view on the boards is an algorithm that tries to balance between upvotes and time, making it easy to discover new submissions while also surfacing things that people like. We call this "hot".
Other ways to sort is by time "new", or by all-time votes "top".
Cycles (karma)
Cycles are Repl Talk's way of doing what's commonly known as Karma. Every time you get an upvote you'll see that reflected on your profile. Anytime you post there will be a number next to your name which is the number of cycles you accumulated.
The reason we called it "cycles" and not "karma" is because in the future you'll be able to use "cycles" as cloud credits. You can spend them on getting more resources (CPU, Memory, Storage) on Repl.it to host your applications. We'll announce this officially soon.
Profiles
If you click on a user's profile you can look at, in addition to their repls, their posts and comments.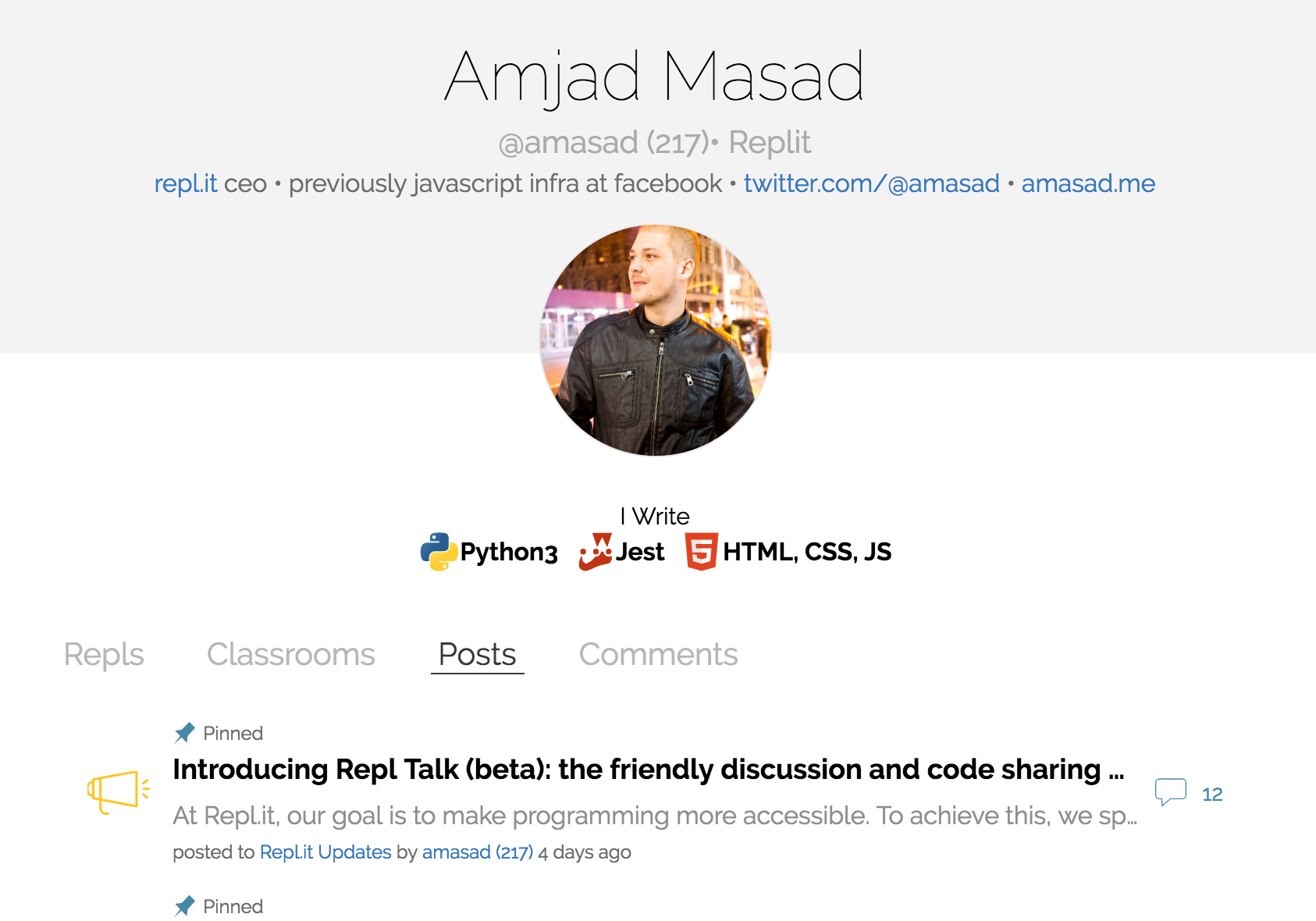 Values
Every discussion board on the internet has a certain culture and value system. For repl talk these are the values that we came up with from observing the interactions on I Built This and thinking about how we can build a great community:
We are kind and welcoming. We treat people with respect and friendliness. Being playful is fine, especially with community members you know -- but please be self-aware and always think about not stepping your bounds in a way that's hurtful.
Prefer "Yes, and" over "No, but", which means that instead of shutting down ideas you should build on them. We're here to learn from each other and have fun, so while having strong opinions is fine, try to frame your feedback and comments in a constructive way. Ideally, in a way that promotes further discussions and ideas.
Prefer giving over taking. If everyone is generous with their time, their feedback, and their creations then the community as a whole would be a lot more valuable. So don't just lurk -- try to upvote, discuss, comment, etc. If your shy, then that's ok, feel free to ease into it.
What now?
To start:
Introduce yourself over at the intro thread.
Familiarize yourself with the rules
Share your first repl. Even if it's something simple, try to share something -- the community is welcoming to newbies.
Have fun and I'll see you around 👋
You are viewing a single comment.
View All
SPQR

(509)
@amasad """Quick""" thought about the cycles thing -
I don't know if you guys have thought of this but it seems as if it'd be entirely possible for people to just "farm" cycles / upvotes by just coordinating with a friend and upvoting all each other's posts, making multiple accounts, etc., and obviously that's not optimal. I've thought of a potential solution (although you very well may have already come up with one) for this:
--Have a finite number of cycles going around, say they can be used as currency, they can be used for processing power like you said and they can be created and given out by set "moderators" or something of that nature (an alternative to this is for everyone active to get a few cycles per day as long as they DO something on repl.it on that particular day.) They could be transferred between users as a show of gratitude, or a "I like this" or something. It'd probably work best if done in large numbers, so people can give a little to someone who does something a little nice, or a lot to someone who does something really amazing for them. Also, the number next to people's names is a nice touch, so perhaps to keep that the number would represent the total cycles someone has accumulated, regardless of whether or not they still have them.
Again, this is just one potential solution, and I'd imagine it isn't perfect. You may already have a simpler or more effective one, or you may feel that there's no need for any special measures to be taken and that we can just rely on the integrity of those in the community. I'm not gonna be upset if this doesn't get implemented (and I'd assume it probably won't be.)
Side note: maybe instead of spending Cycles on cloud things, people get more access to memory, CPUs, storage, etc. once they reach a certain number of upvotes? That way people wouldn't have to deal with spending cycles on processing power for a power-intensive program only to not be able to run it once they run out of cycles. Just a thought :)
Actually, that would be much simpler than trying to implement the first thing, lol
Thanks for reading all the way down. Here's a picture of my dogs.