Hey all! You may have already noticed, we recently moved the site's nav from the header to the sidebar. The header was getting a little crowded... especially on smaller screens.  The goal is to make it easier to navigate between pages and while also giving you the option to hide the nav so you can focus on what you're doing (happens automatically when you're coding). It remembers your last state on the device you're using. If you close the sidebar nav and then reload it should still be closed.
Here's a preview of the nav but if you're logged in you're already using it!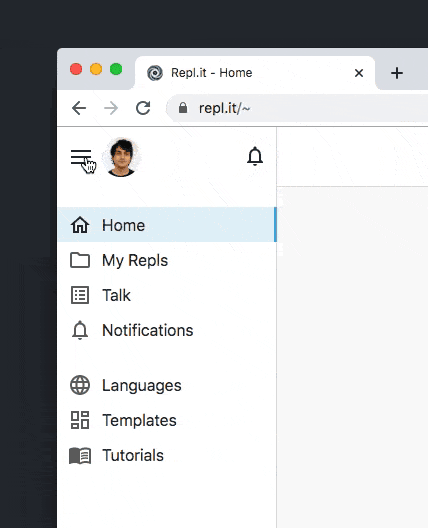 We're still experimenting with the layout and what to prioritize in the sidebar. Let us know how you feel about this change.
theangryepicbanana

(1635)
would be cool if the links to stuff like canny (feedback, bugs, and language requests) that used to be at the footer could be on the sidebar
PaoloAmoroso

(139)
@moudy Thanks for the sidebar, it's really handy.
I'd like also some way of accessing the documentation from the sidebar. As far as I know, when logged into Repl.it the only way of navigating to the documentation is to click Account in the sidebar, which leads to the account page, and then click docs at the bottom.
AllAwesome497

(365)
Cool. One thing I'd like to request is with the notification system. When new notifications come it automatically updates but if you clear the notifications in another tab it still shows the number even if you check the notifications in the other tab.