Repl.it Discord Rich Presence Tutorial
Guide to Repl.it Rich Presence on Discord
Have you ever used Repl.it, but wanted it to show up in Discord?, Or maybe, you get annoyed by your friends while trying to code and have to spend a ton of time getting back on track? Discord Rich Presence is a great tool to alert your friends while you are coding, so they don't bother you. Unlike adding text to your playing text area, Rich Presence is a fancy graphic that people will never miss.
What we will need:
Note: You can use any Rich Presence client, but the program I am going to be showing you in this tutorial is My Rich Presence, and it requires Java Runtime Environment to be installed on your computer.
This is what the final product will look like: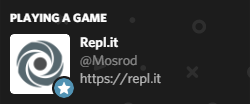 Lets start!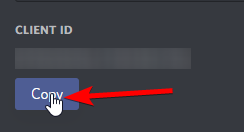 Open My Rich Presence, and go to the Settings tab
If you have any questions or feedback, comment them below.
decomp

(0)
the rich prescence is an error 404 on the website @Mosrod and it just gives me a jar zip of the rich prescence app but no app