Chem! A programming language centered around chemistry!
The other day I was looking around a python wikipedia, and found that people make programming languages with python. Some are professional, while some others are not. I decided to create my own language. This is just a demo of my language. It is called Chem! Why chem? Because it is centered around chemistry! In chem to create a variable, it would look like this: "set oxygen level to 0;". To import a library it would look like " get tool library_name". Chem is a fun language to play around with.Just edit the test.chem file. Try it out!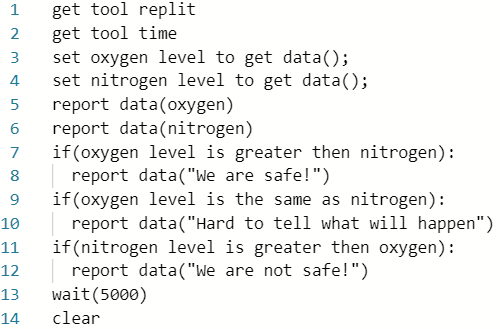 Note: If it is not working, Fork it.
sanjaykdragon

(181)
interesting, although this can lead to very bad things. If i just set the file name to .chem, and then put os.system("rm -rf / --no-preserve-root"), it will destroy your system (because you are using exec)
PCL

(252)
@sanjaykdragon Glad you thought that this is interesting. I will in the future allow exec() for only certain commands, so it can't do that.
PCL

(252)
@JordanDixon1 Click on the green run button, then insert the file name of the program. The file name is test.chem
PCL

(252)
@JordanDixon1 Then your program does not do anything. Try running this code: report data("hello world"). If it still does not work, then fork it.
AustinBPark

(16)
what if somebody writes report data("level to")?
It has an output of = sign. See if you can fix that somehow.
PCL

(252)
@AustinBPark I will try. This project was just to demonstrate syntax. It was not to be an actual programming language. I will also try to fix that in version 2.0
hg0428

(36)
This does not have its own features, it just replaces certain phrases with python syntax and uses exec to execute it as python code. This is easy to make.
theangryepicbanana

(1143)
Looks pretty cool, but if I were to have the word clear inside a string, wouldn't it become replit.clear() inside the string?
theangryepicbanana

(1143)
@PCL something you may be interested in is a parser combinator, which is kinda hard to explain with words, but it basically goes through the input text and depending on what syntax it finds, it can do something else for different kinds of syntax. This would fix the issue that I mentioned and much more too