Watch Pewdiepie Vs T-series Live Here.
This website was made in freetime by using iframe form different sites by me. Hope You Liked It.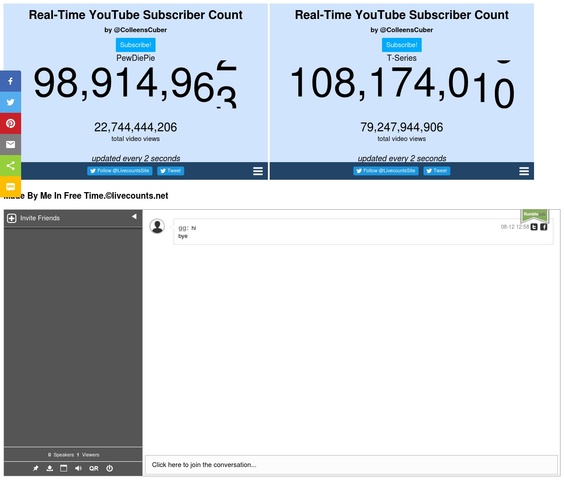 YouTube's most subscribed channel PewDiePie is about to be dethroned by Indian record label T-Series, according to their live count on SocialBlade. This is unprecedented news, as most people thought PewDiePie would always be the leader in YouTube subscriber numbers. As we gather more information, we will be announcing news, updates and more on this live stream, as we find out the answer to the biggest question on YouTube now, Will T-Series Pass PewDiePie in popularity?
About PewDiePie & T-Series:
PewDiePie is a Swedish YouTuber and video game commentator, and has been the most subscribed YouTube channel for the past five years.
T-Series, an Indian music record label and film production company, has recently been gaining over 100,000 subscribers per day and has surpassed PewDiePie. However, regardless of T-Series' subscriber count, PewDiePie will still remain the most subscribed individual.
HOPE YOU ALL LIKED IT.
Open In A New Tab For Best Experience and Chating with Friends